---

BG-Map Introduces Garden Notepad 3 for Windows 10 (GN3)
Record Plant Condition and Size in the Field on a Windows 10-Based device. GN3 is a time and labor-saving software application that allows garden staff to capture information about the size and condition of plants plus images in the field on a Windows 10-based tablet or laptop and upload and automatically transfer that information to BG-BASE.
---

McCrory Gardens Launches Garden Explorer Powered by Web-VQF
McCrory Gardens of the South Dakota State University has launched its McCrory Gardens Explorer website, powered by BG-Map Web-VQF. This is the latest of a number of websites that use this technology to link their plant records systems to the web for public and staff access.
The site features search and retrieval of information on plants, memorial and dedicated items, gardens and features as well as garden tours.
You can reach the McCrory Gardens Explorer at https://mccrorygardensexplorer.sdstate.edu/
---
BG-Map has been installed at the Community College of Baltimore County, Maryland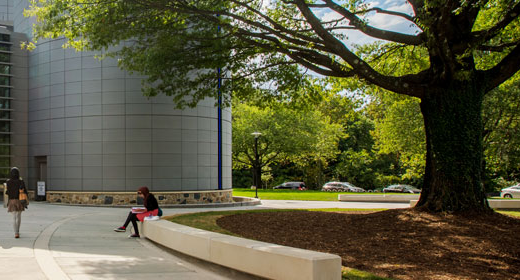 The Gardens on the campus of the Community College of Baltimore County provide support for teaching programs in Sustainable Horticulture, Greenhouse Production, Landscape Design and Installation and Landscape Maintenance.
A partnership with the American Landscape Institute (API) creates a two-year college certificate program for high school graduates – a first of its kind management development program for the Horticulture and Landscape industries. The owners of leading landscape and nursery companies will offer mentoring, hands-on field experience and an 80 percent scholarship to CCBC. Program graduates will have the management training to serve as first-line supervisors for their sponsor companies and will be awarded the remaining 20 percent of their tuition.
---
BG-Map has been installed at McCrory Gardens in Brookings, South Dakota
McCrory Gardens is a botanical garden & arboretum operated and maintained by South Dakota State University.
The Gardens include over 25 acres of formal display gardens & 45 acres of arboretum featuring hundreds of different flowers, trees, shrubs and grasses in harmonious settings to display, educate, and further the development of new varieties.
Ongoing institutional research continues to provide new information to the scientific community and the public on the introduction, cultivation, and arrangement of native and domesticated plants. The testing and evaluation of new woody plant selections and varieties in the climate of the northern Great Plains.
---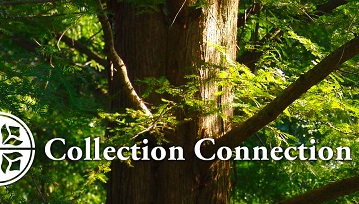 Morris Arboretum Launches Collection Connection Powered by Web-VQF
Morris Arboretum of the University of Pennsylvania has launched its Collection Connection website, part of its Awakening the Senses Initiative to develop a series of online and onsite interactive guides and resources is available to enrich the Arboretum visitor experience.
You can reach the Collection Connection page here.
Paul Meyer, Arboretum Director stated:
"As a former curator, perhaps my favorite tool is the "Collection Connection." This tool gives access to the Arboretum's plant accession records and electronic mapping system. For example, visitors who want to learn more about the Metasequoia (dawn redwood) can search with either the botanical or common name. A list of accessions will come up, along with a map showing where each accession is located. Photos are also posted that show botanical details or what the species looks like throughout different seasons.
Those with broader interests can search, for example, Acer (maple) and see what species are represented by the Arboretum's 160 accessions, and where they can be found. This will be useful not only to casual visitors, but also to staff, volunteers, and researchers. This is the first time our plant collections database is so widely and easily accessible."
---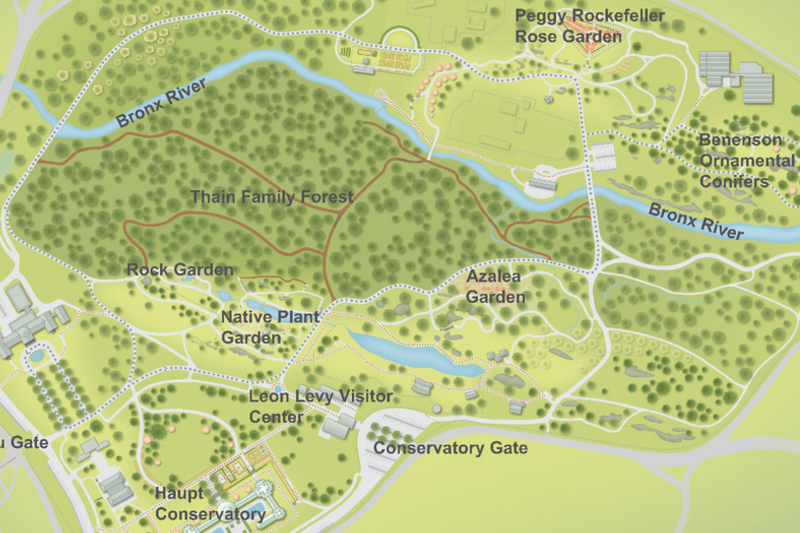 Garden Navigator Launched at The New York Botanical Garden
The New York Botanical Garden has launched the NYBG Garden Navigator, powered by BG-Map Web-VQF. The Navigator provides an interactive map as well as ways to search for plants and features at the NYBG, view tours and create your own tour.
To visit the NYBG Garden Navigator, go to: Click Here.
---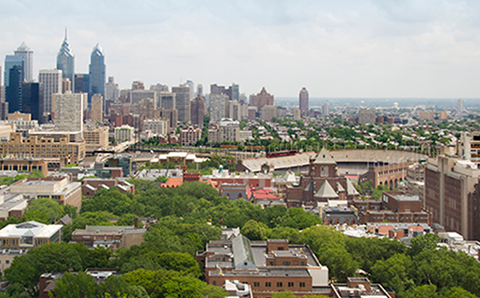 Penn Plant Explorer Launched
As part of Penn's Tree Campus Celebration, the Facilities and Real Estate Services department has launched Penn Plant Explorer, powered by BG-Map Web-VQF. Penn Plant Explorer is an interactive website, linked to Penn's comprehensive tree inventory (6,500+ trees), that allows users to map and interpret the significant trees, specialty gardens, urban parks, edible plants and seasonal interest throughout Penn's campus. Visitors can access Penn Plant Explorer on their mobile devices so they can discover plants or gardens located nearby as they walk through Penn's campus.
To visit the Penn Plant Explorer, go to: Click Here.
---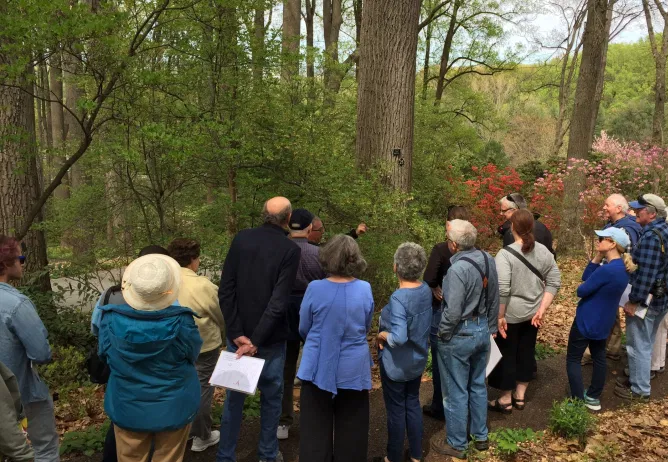 BG-Map Installed at Jenkins Arboretum and Gardens
Jenkins Arboretum and Gardens in Devon, Pennsylvania maintains a collection of trees, shrubs, wildflowers and ferns in a tranquil, naturalistic landscape. In addition, the Arboretum features a diverse collection of rhododendrons and azaleas from around the world. The unique landscape and plant collections provide sanctuary for a variety of birds, insects and other wildlife.
The home and twenty acres on which the Arboretum was first planned were formerly the property of H. Lawrence and Elisabeth Phillippe Jenkins. The groundwork for the Arboretum was laid in 1965 when H. Lawrence Jenkins established the Elisabeth Phillippe Jenkins Foundation, forever preserving his property as a living memorial to his wife. In 1972, Mrs. Louisa P. Browning, owner of the adjoining property, donated her 26 acres, expanding the size of the Arboretum to 46 acres.
Much of the site is heavily wooded, making the use of a GPS for mapping largely impractical. Instead, Jenkins Arboretum staff uses the BG-Map Total Station Interface to accurately map the collections despite the heavy canopy. The total station's data collector also runs BG-Map Garden Notepad and GreVid, allowing the staff to check the collections database and inventory the collection in the field.
---

Scott Arboretum Launches Arboretum Navigator Website
The Scott Arboretum of Swarthmore College has launched its Arboretum Navigator website, powered by BG-Map Web-VQF, featuring its plant collections, garden features, memorial and dedicated items and an interactive map.
You can visit the Scott Arboretum Navigator at https://arbnav.scottarboretum.org/
---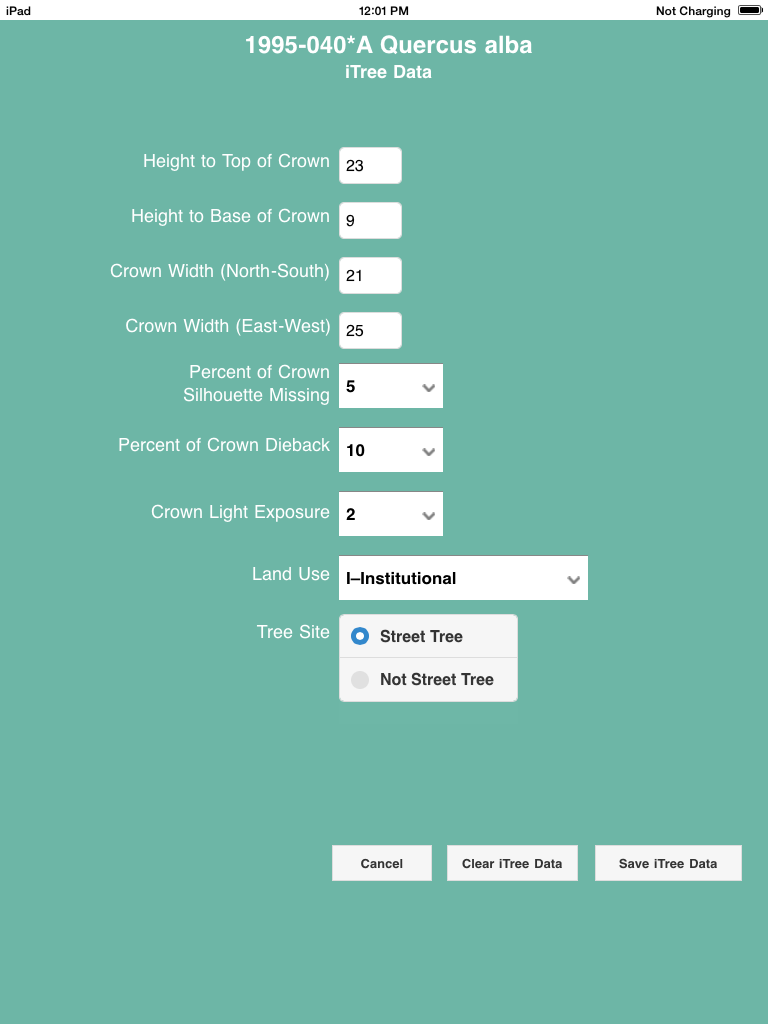 Garden Notepad Plus adds Recording of i-Tree Data
The latest version of BG-Map Garden Notepad Plus for iPad has a new feature - the recording of iTree data.
i-Tree is a peer-reviewed software suite from the USDA Forest Service that provides urban forestry analysis and benefits assessment tools.
Garden Notepad Plus provides new fields for recording canopy volume, condition and land use to aid in using iTree to determine how tree canopy cover affects air pollution and capture of atmospheric carbon.
---
BG-Map Web-VQF at Purdue University Profiled in AgriNews
Purdue University's Arboretum Explorer website, powered by BG-Map Web-VQF, was profiled in the October 31, 2014 issue of AgriNews. In the story, University staff commented on how Arboretum Explorer is serving as an "unparalleled educational resource for our campus community." The article describes how the site provides information about the trees and plants on campus and about the green projects and initiatives being undertaken by the University. Many students have been able to participate by installing QR-coded signage, taking photographs, recording flowering and fruiting phenology and mapping plants.
Purdue University is using the Purdue Arboretum Explorer website as part of its Landscape Architecture Woody Plants Course HORT 217 to provide students with locations of example plants, instructor comments, course schedules and self-testing on plant identification, all accessible from both desktop and mobile devices.
For location and contact details, click here.
Students Use Arboretum Explorer
---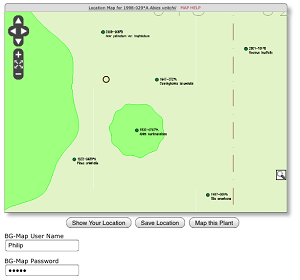 On the Go, Staff Can Now Map or Remap Plants Using Tablets
Using the BG-Map Web Interface, Web-VQF, staff can use a new feature in BG-Map to map or remap plants using the web browser in their tablet or desktop computer. After accessing a plant record and entering a BG-Map user name and password, staff can simply touch the map to map or remap a plant.
Using the geolocation capability of Web-VQF, the user's current location is displayed along with the locations of existing mapped plants to aid in locating the new plant.
---
BG-Map Installed at Reiman Gardens of Iowa State University
BG-Map has been installed at Reiman Gardens, on the Iowa State University campus in Ames, Iowa. Reiman Gardens continues Iowa State's tradition of having a horticulture garden, dating back to 1914. The planning for the current garden was iniated in 1993 and was spurred on by a generous gift from alumnus Roy Reiman and his wife Bobbi.
At its opening, Reiman Gardens covered just five acres, which included the entry court, the Herb Garden, Rose Garden, the Campanile Garden, Mahlstede Horticulture Learning Center and a Maintenance Building. In 1998 ground was broken for the Children's Garden, followed by the Town and Country Garden and Lake Helen. The Gardens have continued to grow and evolve over the last ten years to cover 17-acres. The most recent addition is the Conservatory Complex and Christina Reiman Butterfly Wing, which opened in November 2002.
Reiman's staff will be using a GPS to map the collections and will use Garden Notepad Plus for iPad to conduct inventories. The installation also includes the BG-Map web interface, Web-VQF.
For location and contact details, click here.
---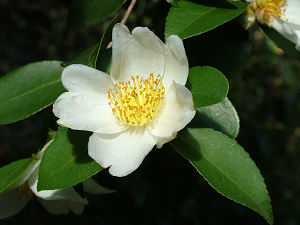 BG-Map Adds Horticultural Management Module
BG-Map's capabilities continue to expand beyond basic mapping. BG-Map now includes a new Horticultural Management Module, which allows you to create, assign and track the progress of Horticultural Management Tasks. It contains these components:
Enter Additional Plants Data
Horticultural Management Contacts
Horticultural Management Tasks
Horticultural Management Work Orders
With the Horticultural Managment module, you can assign maintenance tasks and track the maintenance history for individual plants or groups of plants. Users can create Horticultural Work Orders, which can be e-mailed to staff or outside contractors. Plus, you can create maps and reports to document work to be done or work completed.
For more details, click here.