BG-Map




Features

Mapping the world... one plant at a time

Compatible

Things you can do with BG-Map...
List of Software Products from BG-Map...
Easy to Use

- Designed to meet the needs of garden staff, not computer experts. BG-Map lets you concentrate on your job, not on technical details. You don't need to learn about database structures, topology, rules, schema, classes, exporting or formatting. You have better things to do with your time!

"You Don't Need to be a GIS Expert to Use BG-Map..."

"The implementation of the software (BG-Map) went very well for us. We were complete by the end of August, and C. has been mapping all of our new garden renovations this year. It's almost intimidating how much the software can do."

Peter Couchman, Executive Director, High Glen Estate

Plant Search Tool

- Quickly find mapped or unmapped plants using various search criteria. Use the results to create reports and maps.

Web Interface

- With Web-VQF, display maps, plant information and more on your website or internally for your staff. Plus, Web-VQF supports online horticulural classes, including the publishing of class materials in PDF format.

Display Both Existing and Proposed Plants

- The Proposed Plants Feature allows you to create planting lists, tabulate costs, place proposed plants on the map and coordinate their locations with existing plants.

Tight Integration With Database

- Changes entered into BG-BASE are immediately displayed on the map and via Web-VQF. Look up plant records directly from the map - just point and click. And, you can create and update BG-BASE plant records from within BG-Map.

Automated Map Printing

- Automatically formats and prints maps on a wide variety of printers and plotters - no AutoCAD or IntelliCAD knowledge is required.

Image Linking

- Links to images stored either in BG-BASE or BG-Map - clear thumbnail display of available images for any plant or taxon.

Horticultural Management

- Create, assign and track the progress of Horticultural Management Tasks. Details here.

Dynamic Text Formatting

- Text on maps is dynamically reformatted and scaled to always maintain legibility. Text can be easily resized or rotated.

User Customizable

- Plant symbols and colors can be assigned to plant families, genera, habits or special characteristics.

Automated Surveying

- Using either total station or GPS equipment.

Infrastructure Management

- Optional Facilities Management Module tracks and manages your infrastructure, including buildings, equipment, utilities, works of art, signage, memorials, and much more.

Field Data Collection

- Record plant size and condition in the field using an iPad or a Windows Mobile device with Garden Notepad

Compatible With AutoCAD and CMS IntelliCAD

- industry standards for surveying, architecture and landscape design. Exchange maps and data with other AutoCAD compatible applications.

Runs on Windows

7, 8 and 10

Works with BG-BASETM
BG-Map is the only available GIS product that provides a live data link to BG-BASETM, the collections records database in use at botanical gardens and arboreta worldwide.

Technical Support Program

- includes software updates at no additional cost.

"I have worked with BG-Map for six years now, and I still don't know where I would be without you and your fabulous technical support. From the silly questions to the really tough problems I come up with, you are always willing to talk me through it or get back to me quickly. You never shrink form creating new solutions for the special needs of Mt. Cuba Center. We have a much stronger plant records department as a result."

Amy Highland, Mount Cuba Center

Network Ready
BG-Map is the only available mapping product that links directly to BG-BASE™ without the need for exporting or importing. - Changes entered into BG-BASE are immediately displayed on the map.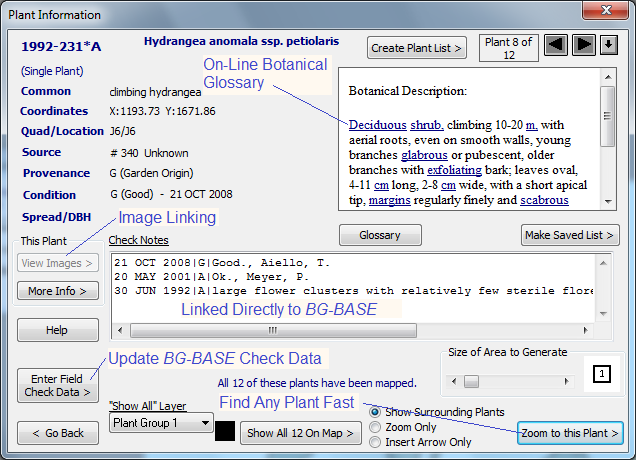 Things you can do with BG-Map...
© 2022 Glicksman Associates, Inc. All rights reserved